Weekend Links & Open Thread
Latest cable news links [Sunday 6:30 pm]:


Pix: Housley in Columbia.

Tucker axed! Announcement tomorrow?

Janice Dean shock: "I have MS". Video. Reax: DogOnCrack.

More Tucker/Peev fallout. Still more.

Q&A: CNNi's Rani Raad.

MSNBC's moronic promo?

FNC's chilly reception.

Beltway/NewsWatch airs: 2:00 pm; ElectionHQ: 10:00 pm.

Sunday talkers.

MSNBC's awards. Video.

Latest cable news links [Saturday 6:30 pm]: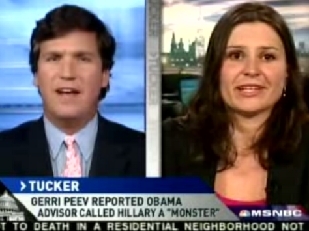 Glenn Beck blasts Olbermann.

Adam Housley in Columbia.

Geraldine Ferraro scolds Chris Matthews.

Media distraction.

Is MSNBC pro-Hillary?

Pat Sajak's boycott.

Bill Hemmer's 110 inches.

Cable's election lessons.

Anderson Cooper in Arkansas.

Dobbs vs Coonerty.

Exit polls explained.

CNN: most honored.

Video: Tucker Carlson is Peeved.

Larry King's political summit.

Use our valuable bandwidth to post your comments about any and all cable news topics in this weekend's open thread. Standard rules apply.
---


SteveMG
The Scotsman reporter has the better argument here with Carlson. Once someone agrees to go ON the record, if they make a gaffe they can't ask for a do-over or that it be stricken later. If they ask beforehand that their comments are off-the-record, that's another game.

As a former reporter, I can recall at least two instances where I was interviewing people (one was an elected official and the other a candidate) where during the on-record interview they made questionable comments and asked that it be taken off the record.

No can do. BEFORE, okay; but not AFTER.
March 8, 2008, 12:29:49 PM EST – Like – Reply

---

johnny dollar
I totally agree. We have Judge Napolitano in another post explaining that 'off the record' is a contract that can't be invoked by one party just saying so after the fact.
March 8, 2008, 1:16:06 PM EST – Like – Reply

---

SteveMG
that 'off the record' is a contract that can't be invoked by one party just saying so after the fact.

Yes, but on the other hand the Scotsman reporter appears to claim that once a subject agrees to do an on-the-record interview, they couldn't go off-the-record at all.

That's not right, it seems to me (ethically if not legally).

If during an interview, a subject says, "Okay, the stuff I say from here on is off the record", the reporter should either state up front that that is not permissible and that the comments can be used or state that they acknowledge that the comments cannot be used publicly.

I recall as well interviewing public officials (city councilmen) who would talk on the record about a topic and then say, "Okay, Steve, this is off the record" and give me their views, information.

Had Powers stated that her comments about Clinton were off the record, the Scotsman reporter should have honored that.

Apparently, she thinks not.

Here, then, Carlson is right.
March 8, 2008, 5:38:41 PM EST – Like – Reply

---

Wenchie
Janice revealed she has MS
March 9, 2008, 9:53:00 AM EDT – Like – Reply

---

johnny dollar
So who will take over for Tucker Carlson? Will MSNBC make it a nightly five-hour Democratic block by giving Rachel Maddow her own show?
March 9, 2008, 5:42:18 PM EDT – Like – Reply

---

Missy
It's unbelievable that MSNBC would give Tucker the boot. He has the worst time slot imaginable, competing with Brit Hume, Cramer, Lou Dobbs (until recently), and local news! When he was at 9 p.m. and 11 p.m., I thought his ratings were OK (compared to everything else on MSNBC), but they seemed to want to move him around anyway.

(I'd like to see how well their hero Keith does at 6 p.m.!)

Tucker is very knowledgable, witty, fearless in debate, and an asset to ANY news organization. And why should we believe that they'll use him as a commentator in other programs - they have failed to do so so far in this election cycle.

GOD HELP US if Rachel Maddow is put in that time slot. But I fear that's the plan.

Back to Brit at 6 p.m. ET!
March 9, 2008, 8:39:33 PM EDT – Like – Reply

---

johnny dollar
Yep my guess is it will be Maddow. They are on a counter-programming binge, and probably think that an Air America type will grab that segment of the audience at 6:00 like Olby does at 8:00. So even if they don't exactly win, they'll have a nice little loyal chunk of viewers.
March 9, 2008, 9:31:02 PM EDT – Like – Reply

---

FNCFan20
They just posted the schedule for Monday. Looks like Gibby's going to be gone a little while longer....
March 10, 2008, 12:30:59 AM EDT – Like – Reply

---

johnny dollar
Uh oh. Is this a Tucker Carlson type deal, only they're trying to do it under the radar?
March 10, 2008, 1:22:31 AM EDT – Like – Reply

---