Wednesday Links & Open Thread
Latest cable news links [7:33 pm]:


David Mac Dougall in Sadr City.

CNN's "Match Game".

Tuesday's numbers.

Lapel-pin lowdown.

Talk to Larry King. Speculation.


Audio: Hillary entering the no-spin zone.

Tony Snow: "satisfactory".

Hotline quotes.

James Rosen's Watergate book.

Video: Pat Buchanan to Rachel Maddow: Marxist!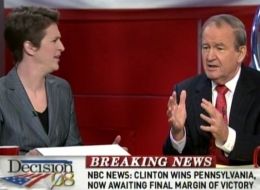 TV Decoder notices, looks ahead.

Primary: Marginal concerns. CNN's edge? Pix. Bad analysis? CJR's selective summary. Schneider's take.

Fox panic?

Use our valuable bandwidth to post your comments on any and all cable news topics in today's open thread. Standard rules apply. fox news cable news
---


On The Mark
Since the outcome was known so far in advance, I spent a bit of time surfing, and I rated each of the network on a total of five (5) categories, Technology, Anchors, Campaign Reporters, Analysts, Set/Graphics.

CNN: Technology +20, Anchor -5 (I can't stand Blitzer), Reporters +5, Analysts +18 (largely for Brazille and Schneider with a crumb to Begalia and a ding for Bennett). Total: 38.

MSNBC: Technology +5, Anchor +1 (for Matthews), Reporters +8 (for Mitchell), Analysts +18 (for Todd, with a ding for Scarborough), Set/Graphics +2 (crisper and cleaner than the competitors). Total: 34.

FNC: Reporters +15 (for Garrett), Analysts +5, Set/Graphics -3 (for usual heaviness, clumsiness). Total: 17.

Not a very good night for anyone.

At CNN: Blitzer was his usual awful self, and Brown was shrill and over-bearing. Bennett was a disgrace. He needs to enter the priesthood, get a raised pulpit and preach down to all the listless worshippers at the early Sunday morning Medicare Mass where everyone, including the priest, knows no one is listening and if they were, they would be confused.

At MSNBC, Todd is amazing. Russert and Williams were very good, too. Buchanan seems to be unstable. Sometimes, he is excellent, but he can be confused and almost deranged. Scarborough's role playing game was trivial and irritating. If I had been Ford, I would have said cut the crap and get to the point. I get the sense that I was at Scarborough's off Broadway premiere, with only one performance which counts as two because it was both opening and closing night.

At FNC, it seemed to be an off night. Hume seemed to forget he was on the air some of the time, and Barnes looked as if he was in a subway derailment en route to the studio. Kristol and Williams looked like they wanted recess, lunch and a nap. Mostly, FNC was simply heavy. A closed, stale Victorian mansion on a very hot day.
April 23, 2008, 8:10:35 AM EDT – Like – Reply

---

david smawley
Fox was the first to call the election for Hillary among several great moments last night. Off The Mark again!
April 23, 2008, 9:29:01 AM EDT – Like – Reply

---

Guest
Big surprise FOX gets 17 from On the Mark. Fox called it way ahead of any of the others, they even had a little fun with it when they were live at Clinton rally and they were watching CNN and had no idea FOX had called it.
April 23, 2008, 9:53:05 AM EDT – Like – Reply

---

On The Mark
Speed is not that important to me. But, if you find it so valuable, by all means, treasure it. Florida 2000 made me a bit cautious, but rashness has its place as well.
April 23, 2008, 10:36:21 AM EDT – Like – Reply

---

olbysucks
I don't see any rating or mention of Olbyonesidedkanoby, 'on the mark.' How was he last night? Is he untouchable?
April 23, 2008, 10:49:11 AM EDT – Like – Reply

---

On The Mark
I rather clearly noted that the point for MSNBC anchor was for Matthews. Mr. Olbermann received no points. He deserved no points.
April 23, 2008, 11:12:29 AM EDT – Like – Reply

---

Mike Chimeri
I only watched FNC and the Strategy Room/Shepard Smith stream on FOXNews.com. I was satisfied with both.
Olby never deserves any points.
April 23, 2008, 12:55:43 PM EDT – Like – Reply

---

On The Mark
I enjoyed the "Functional Ambivalent" (Edge, above) piece. To shamelessly appropriate from a fellow poster and not caring if this is repetitive, yes, Blitzer is the most annoying person in television. And, yes, Kristol is always, always, always wrong. I can't imagine how anyone can be so consistently wrong about everything, although I don't think he has an exclusive on it. But, even Paula Dean sometimes pulls a winner out of the frying pan, and I have heard that even Miley Cyrus hits the correct not every once in awhile.
April 23, 2008, 1:34:03 PM EDT – Like – Reply

---

olbysucks
Now, there's the Mrs. Philby we know and love!
April 23, 2008, 1:56:02 PM EDT – Like – Reply

---

Mike Chimeri
Unlike Victorino Matus at "The Weekly Standard" blog, I don't find myself "somehow inexplicably drawn to CNN's coverage of the primaries." But I do have to say it: "Get ready to match the stars! ..." Matus only accounted for five panelists. We're missing a sixth to play the role of Elaine Joyce, Dolly [Read] Martin, Jo Ann Pflug, etc.
April 23, 2008, 2:59:18 PM EDT – Like – Reply

---

Mike Chimeri
Is the image of BOR up because Rachel Sklar mentions him in the "lapel pin lowdown"? I can't figure her out. Sometimes she's moderate to center left; other times, she's not-quite-far to far left.
April 23, 2008, 3:02:40 PM EDT – Like – Reply

---

Cecelia
Goodness, Buchanan's "Marxist dialectics" statement has gotten some blue bloggers in a stir (and you should see the willful obtuseness Huffpo is STILL hysterically embracing over ABC's "flag pin" question).

They are so dumb and obtuse with these arguments, that even their opponents find themselves making excuses for them by suggesting that they are just "playing dumb". I go back and forth on that. However, they may actually BE this dumb.

To blithely wave away all of Buchanan's argument with assumptions (against history) that the working class of Ohio and Pennsylvania will treat Obama differently from McCain because, well.... they're the fed-up working class and he's the Republican, IS the stuff of Marxist dialectics...duh...

As to their playing dumb vs being dumb, now that I think about it, it is not mutually exclusive that they truly may be the fastest draws in the west when it comes to applying blinkers while ALSO being as blind as Stevie Wonder.

That would certainly would appease and bring together those on either side of THAT argument... :D
April 23, 2008, 3:29:17 PM EDT – Like – Reply

---

johnny dollar
I stuck the Bill image in there because of the audio clip re Hillary.
April 23, 2008, 3:33:09 PM EDT – Like – Reply

---

Cecelia
Mike, CNN reporter Carol Costello could play all three of those women. She seems to be as ubiquitous on that network as Joyce, Pflug and Martin were to the 70's game shows and destined for as much greatness.
April 23, 2008, 3:40:35 PM EDT – Like – Reply

---

The Dude
Give 'er hell O'Reilly
April 23, 2008, 3:46:07 PM EDT – Like – Reply

---

Cecelia
Now, Johnny, we all know that Bill O'Reilly is the equivalent of the naked baby picture on the cover women's magazines and the naked woman one on men's mags. He sells... :D
April 23, 2008, 3:47:22 PM EDT – Like – Reply

---

Mike Chimeri
>I stuck the Bill image in there because of the audio clip re Hillary.<
Oh, yeah, I didn't see that until now. Sorry. I did hear that as it aired, though. He won't "give 'er hell," but I'm sure he'll ask some great questions, ones she hasn't been asked before.
April 23, 2008, 4:21:12 PM EDT – Like – Reply

---

Mike Chimeri
Correction: I saw it on my DVR. I already forgot he broke it on "F&F."
April 23, 2008, 4:23:59 PM EDT – Like – Reply

---

Mike Chimeri
Re: "Tuesday's numbers": I told you so...mostly in the demo, but also in total viewers. Demo: CNN 1st, MSNBC 2nd, FNC 3rd. Total: CNN 1st, FNC 2nd, MSNBC 3rd. This will repeat on May 6 and any other night there's a primary.
April 23, 2008, 5:02:35 PM EDT – Like – Reply

---

olbysucks
The pressure is mounting. Lanny Davis is all but telling obama to get out of the race because he is unelectable/losing all swing states.
April 23, 2008, 5:14:25 PM EDT – Like – Reply

---

Lucifer
Lanny Davis is a schill for Hillary.. What do you expect him to say ? O'Reilly is going to interview Hillary,, is Hillary on Spring Break ? Is Hillary now a 12 year old stripper, or is she a 16 year old who punches out another teenage girl ? Will he have that genius Kinky Friedman on afterward to comment on her body language ? Will Charlie Daniels mention her gun policy ? How about that ex comedian Dennis Miller what hard hitting thoughts will he add ? When will O Reilly's producer walk up to Bill Clinton and ask him about what O Reilly likes to do with fallafels. ?

The only thing Bill O'Reilly can do right is bring in the over 65 viewers that watch him everyday and call him " sonny "
April 23, 2008, 5:45:05 PM EDT – Like – Reply

---

Cecelia
The only thing Bill O'Reilly can do right is bring in the over 65 viewers that watch him everyday and call him " sonny "
Lucifer | 04.23.08 - 5:50 pm | #

Have you seen THEIR voting turnout stats?... :D
April 23, 2008, 5:54:40 PM EDT – Like – Reply

---

Lucifer
Yep,, they are retired and contribute very little to society. Senile Seniors like to vote for their ilk.. look at Strom Thurmond, Jesse Helms, Ted Stephens and Robert Byrd. Old people have a lot to offer,, but political wisdom is very seldom one of their gifts.
April 23, 2008, 6:11:49 PM EDT – Like – Reply

---

Grammie
"The only thing Bill O'Reilly can do right is bring in the over 65 viewers that watch him everyday and call him " sonny "
Lucifer | 04.23.08 - 5:50 pm | # "

You have a problem with the over 65 crowd, sonny?

Perhaps God will smile upon you and see to it that you never even so much as approach that age group and you go out in a blaze of 25-54 demographic glory!
April 23, 2008, 6:19:32 PM EDT – Like – Reply

---

Cecelia
Yep,, they are retired and contribute very little to society. Senile Seniors like to vote for their ilk.. look at Strom Thurmond, Jesse Helms, Ted Stephens and Robert Byrd. Old people have a lot to offer,, but political wisdom is very seldom one of their gifts.
Lucifer | 04.23.08 - 6:16 pm | #

Perhaps Obama's defense for making the remarks about PA working class, guns, and religion, should have been that the devil made him do it...
April 23, 2008, 6:23:28 PM EDT – Like – Reply

---

Cecelia
Grammy,

From Lucifer's lips to Obama's ear....

Indiana has plenty of ...unexperienced...unseasoned... and unreasoned... mature Americans (who have personally experienced the course of history for over 60 years...) to offend... Why SHOULD he stop at Pennsylvanians?... :D
April 23, 2008, 6:29:48 PM EDT – Like – Reply

---

Cecelia
Perhaps God will smile upon you and see to it that you never even so much as approach that age group and you go out in a blaze of 25-54 demographic glory!
Grammie | 04.23.08 - 6:24 pm | #

We can only hope... :D
April 23, 2008, 6:31:15 PM EDT – Like – Reply

---

Fox Fan
Mike, that "I told you so" was well earned! When I read your prediction yesterday about the numbers I thought to myself, "Hah! Never. Fox will clean house as usual." Nice call!

Grammie, I'm sure Luci will go out with a whimper rather than a bang!
April 23, 2008, 6:46:36 PM EDT – Like – Reply

---

Lucifer
Nah.. If I were to go out in a blaze of glory many GOP'ers would die first. However,, not enough of them. I see the same tired collection of old skank neocons as there were at that old abandoned OlbermannWatch.com
April 23, 2008, 6:52:45 PM EDT – Like – Reply

---

Grammie
Temper temper temper, Luci.

It's just as easy to have a smile in your writing as a snarling scowl, don't you think? It has the added advantage of making friends and influencing people.
April 23, 2008, 7:01:48 PM EDT – Like – Reply

---

tony
Luci: You are on the wrong site. The Left wing communist hate groups are over on houndwatch.
April 23, 2008, 7:05:25 PM EDT – Like – Reply

---

Grammie
FF, you asked me a question the other day. The only trollish poster here using the same name as at OW is Republican Killa and he is promptly deleted.

There are several here who are using different names from at OW but following Johnnie's rules enough to be acceptable here. Those of us who recognize them or think we do shouldn't really go naming them willy nilly, I don't think. The evidence and proof is gone b/c R Cox deleted well in excess of 10,000 of the worse comments. Additionally, all the trolls had multiple user names [sometime dozens and dozens] and frequently had conversations with themselves.
April 23, 2008, 7:15:14 PM EDT – Like – Reply

---

Lucifer
Yes Grammie.. and we all see how well OW is doing now.. for the record I have never used an alias. yes Houndwatch is a great website. A website that offers the truth, and they have no problem with varying opinions.
April 23, 2008, 7:29:17 PM EDT – Like – Reply

---

Cecelia
https://www.youtube.com/watch?v=jpjRdUCkI9w

Johnny, this is really cute!

Olbermann NEVER looked so adorable, but his diction hasn't changed.
April 23, 2008, 7:36:40 PM EDT – Like – Reply

---

Grammie
Luci, rest assured that I neither think nor even suspect that you posted at OW under another name nor do I recognize "Lucifer" from anywhere but here, at J
April 23, 2008, 7:44:22 PM EDT – Like – Reply

---

Cecelia
True, Grammie. Sounding like an idiot is completely generic for Houndwatch denizens.
April 23, 2008, 7:57:03 PM EDT – Like – Reply

---

Grammie
Cecelia, that was adorable. I enjoyed it a lot.
April 23, 2008, 7:57:31 PM EDT – Like – Reply

---

Fox Fan
"Houndwatch is a great website. A website that offers the truth, and they have no problem with varying opinions."

Obvious proof that Luci has never been there. Oh, and it's newshounds Luci. Their own posters frequently complain of censorship. It's an echo chamber that has been exposed by ex-hound Bill Corcoran as one that falsely inflates comment numbers by having its own members post under multiple names.

Grammie, I recognize Luci's grammatical mannerisms from another site- one I may have led him here through inadvertently. He uses some of the same phrases as Johnny Peepers, a frequent anti-US commenter on Breitbart who specializes in inflammatory statements and shock value.
April 23, 2008, 8:02:35 PM EDT – Like – Reply

---

Fox Fan
Just got to the video Grammie. Hilarious! Olbermann was a bit too well-spoken to be passable as the real thing though.
April 23, 2008, 8:07:45 PM EDT – Like – Reply

---

ImNotBlue
Hey hey... I think ya'll are missing the point here.

Lucifer has made 4 posts today, and none got blocked!

Our little man is growing up... learning how to speak without getting blocked.

*Sigh* The grow up so fast... he's almost like an adult!

Soon, he'll start saying intelligent things, and actually thinking for himself. What a big boy he's becoming.
April 23, 2008, 8:09:59 PM EDT – Like – Reply

---

Fox Fan
Luci is turning rather cuddly lately.

Coochie coochie coo, Luci Luci Loo! Awwww! She's just as cute as a snuggly little corduroy covered button!
April 23, 2008, 8:19:12 PM EDT – Like – Reply

---

Grammie
OK, boys! Settle down and quit picking on Luci or Grammie is going to have to get up and and a la Bill Cosby "the beatings will commence"!
April 23, 2008, 8:26:17 PM EDT – Like – Reply

---

Fox Fan
Yes, Grammie. *pout*
/she started it!
//goes to room for timeout
April 23, 2008, 8:30:21 PM EDT – Like – Reply

---

johnny dollar
> Houndwatch is a great website. A website that offers the truth, and they have no problem with varying opinions.

I have no idea what that site might be. Though I do know one with a very similar name, that has told hundreds of lies and bans or deletes people who expose them. Must be a different place.
April 23, 2008, 8:36:08 PM EDT – Like – Reply

---

ImNotBlue
Johnny, I think you should start "Houndwatch" to watch and expose the lies of that 'oher site.'

I mean, you do it frequently around here... but you could just have that site mirror that content.

Could be pretty funny.
April 23, 2008, 9:05:50 PM EDT – Like – Reply

---

johnny dollar
Oralmann was extra-deplorable tonight. Recap is up at OlbyWatch. Comments still not enabled but if you feel a need to respond you can do so here. He hit new heights of Olbypocrisy tonight. I keep saying that but he keeps topping himself.
April 23, 2008, 9:12:43 PM EDT – Like – Reply

---

Mike Chimeri
Any credibility comedian Paul Mercurio had before tonight is gone thanks to his "Countdown" appearance. Johnny, I loved your line about "John Hagee, McCain's not-pastor".
April 23, 2008, 9:36:48 PM EDT – Like – Reply

---

Grammie
I remember the water torturing Japanese commander who was convicted of war crimes came up at OW some months ago and I did a little research on it.

Ashcroft was right. There is a huge difference between forcing water into someones stomach and then putting pressure on their stomach [water torture] and pouring water over a cloth to simulate the feeling of drowning [water boarding]. Additionally, the ONE Japanese who was charged with Water Torture was also charged and convicted of a half dozen atrocities including causing a few thousand deaths of POWs by torture and random murder.

Just saying.
April 23, 2008, 9:46:48 PM EDT – Like – Reply

---

Grammie
News Hound! Did Elvis do a song about them?
April 23, 2008, 9:49:42 PM EDT – Like – Reply

---

On the Mark
I am pleased to hear that Snow is apparently doing better, and I appreciate the link update. I always hoped he would be able to leave the Bush White House relatively untarnished. Others are not likely to be so lucky. And, I am glad to see him off to a position at CNN. He is going to fit in well with some of the CNN personalities and will be a refreshing counter-balance to others. Wouldn't it be lovely if replaced he irritating and insufferable Blitzer some day? Not going to happen, but is's nice to dream.
April 23, 2008, 10:12:04 PM EDT – Like – Reply

---

Fox Fan
Don't think that just because Snow is on CNN the channel is balancing. Check out the hateful comments on the CNN blog about the situation...

http://politicalticker.blogs.cnn.com/2008/04/21/former-white-house-press-secretary-tony-snow-joins-cnn/
April 23, 2008, 10:20:44 PM EDT – Like – Reply

---

On the Mark
FoxFan:

I draw a huge disinction between networks and their blogs. Even here, a rather genteel and focused site (albeit not directly affiliated with a network) we have a number of highly negative, personal barb-throwing, off-topic posters and a number of coy, incoherent rambling chit-chatterers. and flirters. But they don't define the site, anymore than the posters to which you refer on the CNN blog define the site, much less the network.

Further, FNC and many of its fans seem to think fairness and balance is the by-product of a crossfire debate between a rightwing flamethrower and a leftwing bazooka. I suppose that is theoretically possible. You and I would probably take very opposite views of just how committed FNC is to that apparent tactic. I think fairness and balance is as likely, more likely, to be the product of attitude and demeanor, i.e. respect, civility, manners. That is the value of a talent like Snow and, for example, (John) King.
April 23, 2008, 10:42:35 PM EDT – Like – Reply

---

Grammie
"Even here, a rather genteel and focused site (albeit not directly affiliated with a network) we have a number of highly negative, personal barb-throwing, off-topic posters and a number of coy, incoherent rambling chit-chatterers. and flirters. But they don't define the site, anymore than the posters to which you refer on the CNN blog define the site, much less the network."

You are so right, OTM! The negative barb-throwers and incoherent chit-chatterers are so unpleasantly offensive that I am grateful every day that we genteel folk predominate here at J
April 24, 2008, 1:19:55 AM EDT – Like – Reply

---

On The Mark
The Hume/Smith choice is akin to asking me to select horseradish or A-1 Steaksauce on my kumquat sorbet. I'll feign an allergy to the Fortunella family and sip black coffee.
April 24, 2008, 7:29:54 AM EDT – Like – Reply

---

Cecelia
I think fairness and balance is as likely, more likely, to be the product of attitude and demeanor, i.e. respect, civility, manners.

On the Mark | 04.23.08 - 10:47 pm | #

Oh do you.

Well, this outlook of yours is new found and evidently reserved for blogs like this where you are likely to be blocked if you behave otherwise.

On Olbermann Watch and on Thankyoukeitholbermann.com it certainly wasn't the case as you referred to me and others as being "the gang of four". On OW you were daily so civil as to refer to us as "dried up women" and drunks.

You also took every opportunity to encourage other trolls in their practice of civil discourse wherein they accused others of bestiality and such, by saluting their posts as being "wickedly funny".

You are an agent provocateur. Whether paid or voluntary, you aren't just an internet troll but a militant political operative to whom any declaration (let alone any nicety such as "respect, civility, or manners") is merely a means to an end at best, at worst--utter subterfuge.

Here without your props and your flunkies you're fairly toothless (you'll go in for divide and conqueror efforts, I suspect, via flattery to some, etc) but let's make it clear to everyone just what and who you really are.
April 24, 2008, 9:19:21 AM EDT – Like – Reply

---

On The Mark
I hate to go off-topic, but since you have addressed me without any regard to the topic at hand, I am sure Johnny will allow me to briefly say that I am not sure what you are talking about, but if I have done anything you deem offensive, I apologize, and I hope you accept my apology.
April 24, 2008, 11:57:12 AM EDT – Like – Reply

---

olbysucks
That's laugh out loud funny!
April 24, 2008, 12:45:35 PM EDT – Like – Reply

---

Cecelia
Perhaps you should make the nature of your confusion more specific, On The Mark... (Koldys), as well as your apology.

Are you apologizing for not being sure of what I'm talking about when it comes to your tenure on Olbermann Watch, as well as not knowing what I'm talking about when I referenced your comments quoted below?

"I think he's [Keith Olbermann] really hit a nerve, and hsi detractors are feeling some heat. Has anyone taken a look at Olbermann Watch lately? A complete purge. If you criticize FOX or agree with Olbermann, you're gone. Stalinistic group is Cox, Dollar and the infamous gang of four over there.
On The Mark | 02.08.08 - 3:13 pm |"

http://thank-you-keith-olbermann.blogspot.com/
April 24, 2008, 3:58:59 PM EDT – Like – Reply

---

olbysucks
That's quite the post. Considering the 'author' has made the claim of "loathing" Olbyonesidedkanoby, yet, posts on a 'keith loving' blog. Far out stuff!
April 24, 2008, 4:32:45 PM EDT – Like – Reply

---