Monday Links & Open Thread
Latest cable news links [updated through the day]:


Money honey on the move?

Fox videos add search, transcripts.

Bill Shine previews Beck.

Pix: Coop mingles, Tobin in Gaza.

FNC in an Obama world: Fox doubles down?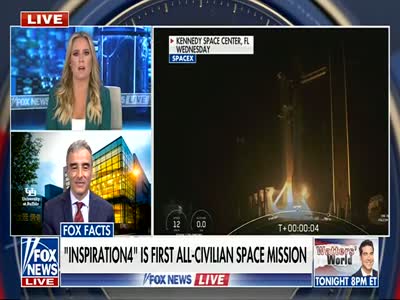 The word is "honeymoon".

Tucker resurfaces.

Today's most impudent headline.

Squawking at CNBC.

Beck: Broadcasting and Cable, Atlanta Journal, Miami Herald, Tampa Tribune, New York Daily News.


Dance discourse dispute.

Blanket coverage.

Fox intern: day two.

CNN seeks sawbones and convergence.

The "best political reporter" of our time?

Use our valuable bandwidth to post your comments on any and all cable news topics in today's open thread. Standard rules apply. fox news cable news
---


Cecelia
One hundred and sixty-six viewers online at once, Johnny?!

I would have thought you were running a picture of Julie Banderas in a bikini or something!
January 19, 2009, 9:09:11 AM EST – Like – Reply

---

Bababooey
I thought Courtney Friel, Johnny
January 19, 2009, 10:18:35 AM EST – Like – Reply

---

GrandpaD
"MSNBC Comes to Fox?" seems to be the big draw. It's a good post; maybe it got Digged.
January 19, 2009, 10:24:29 AM EST – Like – Reply

---

Missy
Fox is going insane with this 0bama coverage. OK, we know he's being inaugurated tomorow and there are festivities associated with it. We get it already. Enough is enough!

But I want to know more about Compean and Ramos. Hopefully they won't cancel their wives inteview w/Glenn Beck tonight. I wish they were pardoned, but a commutation is better than nothing.
January 19, 2009, 1:50:43 PM EST – Like – Reply

---

Lurker
I heard the wives of R & C will be on Beck today.
January 19, 2009, 2:12:10 PM EST – Like – Reply

---

Lurker
Haha, Missy, I just saw your post above me stating it...
January 19, 2009, 2:12:59 PM EST – Like – Reply

---

Cecelia
Re: Dance discourse dispute

I don't understand what's going on with this?

When Disney bought the rights for ABC News to have exclusive coverage of the Inaugural ball (or the Pres and Mrs Obama first dance), where is the money going?

Also, don't news outlets run the risk of being accused of compromise over such arrangements?
January 19, 2009, 2:37:08 PM EST – Like – Reply

---

cee
"Also, don't news outlets run the risk of being accused of compromise over such arrangements?"

Cecelia | 01.19.09 - 2:42 pm |

Only if there are objective, unattached, professional, and informed journalists prepared to air the accusation.

Perhaps in one month....perhaps later?

Am I being too optimistic regarding our nation's Fourth estate?
January 19, 2009, 3:09:42 PM EST – Like – Reply

---

vstol
The Cable Game link, "Fox doubles down?" is, IMO, an important read. I highly recommend it to Bababooey and to those who think there is no difference between Americans, of every calling, supporting the person occupying the Office of the President of the United States, coming together and celebrating the peaceful transfer of power from one administration to another, and the "press," whose freedom is guranteed by the First Amendment and whose duty and allegience is to "the people," not to any party nor any leader.

The printing press transformed the availability of news, radio transformed news distribution, and television transformed the presentation of the news, but 24 hour cable news has transformed the consumer of news.

Journalistic standards are no longer blurred at some news outlets; they've become inconvient, passe, obsolete.

http://www.spj.org/ethicscode.asp
January 19, 2009, 5:57:16 PM EST – Like – Reply

---

cee
Ugh....A SPECIAL COMMENT for the left's neverending dream to see Dick Cheney in an orange jumpsuit and shackles.....

http://www.dailykos.com/storyonly/2009/1/19/18403/8447/317/686176
January 19, 2009, 7:34:08 PM EST – Like – Reply

---

Fox Fan
Hannity congratulated Obama for being voted the gun salesman of the year tonight. I can attest to that with my new (used) highly modified SKS. Thank you GWB for letting the ineffective ban expire in 2004!
January 19, 2009, 9:46:14 PM EST – Like – Reply

---

Grammie
Ugh! is right, Cee.

I'll wait to peruse the charming comments after a few stiff Absoluts on the rocks.
January 20, 2009, 10:16:45 AM EST – Like – Reply

---

cee
Look out Grammie, reductio ad Nazium is in full swing once again by Keith Olbermann.

Use the schnapps if you got it (and can stand it).
January 20, 2009, 10:58:53 AM EST – Like – Reply

---

Cecelia
When it comes to Olbermann, I say we break out the champagne.

The Democrats have the presidency, the House, and the Senate, and this guy is going to spend the next four years beating up on Sarah Palin in Alaska, G.W. Bush in Texas, Bill O'Reilly at FNC, and for every Obama misstep-- scapegoating....?.... the minority whip?...

Glenn Beck has it made...
January 20, 2009, 12:25:20 PM EST – Like – Reply

---